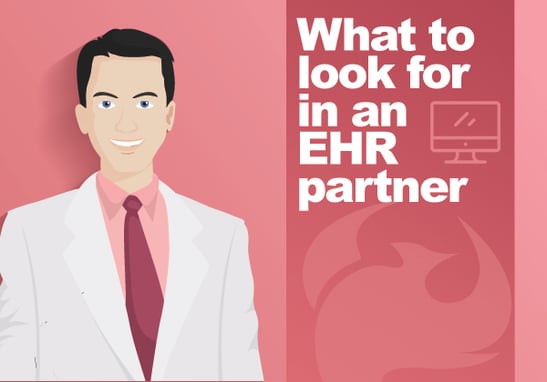 As an orthopaedic provider, your business relationship with your electronic health records (EHR) vendor is central to the success - or lack thereof - of your practice. EHR adoption has become ubiquitous this decade, making it more important than ever to have a reliable system that delivers uninterrupted workflows, relevant data (with no clutter) and real-time charge capture to your clinic.
Adoption of EHRs climbed from only 71.9 percent of non-federal acute care hospitals in 2011 to 96 percent in 2015, according to the Office of the National Coordinator for Health IT. Orthopaedics in particular was a key growth area in EHR over this time frame; Black Book identified surging demand for orthopaedic-specific EHRs in its 2015 rankings.
In evaluating orthopaedic EHR options, what you should you look for? There are general as well as particular considerations to account for so you can make a fully informed decision. Here are some questions to ask to simplify the search:
How will the EHR platform affect my workflows?
EHRs fundamentally alter how an orthopaedic clinic functions. The changes aren't always for the better, either: Medscape charted a slowdown in operations at most providers following EHR implementation. Some of that trend is the product of complex EHR regulatory reporting requirements from the Centers for Medicare and Medicaid Services (CMS). However, unintuitive EHR systems are also major culprits here.
Seek out an orthopaedic EHR that is as simple to use as possible, such as Phoenix Ortho. Focus on specific usability benefits such as streamlined chart input, rapid charge capture and easy coordination between multiple personnel. These breakthrough features help you avoid common EHR-related interruptions and delays.
How well-integrated and interoperable is my EHR selection?
A worthwhile EHR isn't an island. It should exist alongside synergistic partner solutions that extend its capabilities as needed. Plus, it should have highly integrated functionality, especially when it comes to the inclusion of core orthopaedic workflows such as imaging.
For example, a separate picture archive and communication system (PACS) is a common companion to an orthopaedic EHR. This setup creates unnecessary complexity for physicians who already struggle with interoperability issues across multiple disparate systems.
In contrast, Phoenix Ortho gives you a PACS built-in to your orthopaedic EHR software. Your team can easily manage MRIs and X-rays from within the EHR platform for maximum simplicity.
How much can I trust the EHR provider?
Poring over an EHR system's technical specs only gives you part of the story. You also have to dive into the provider's background to see how it will help you make the often challenging EHR transition. Determine if the potential partner offers:
Onboarding overseen by a dedicated specialist.
Live customer trainings.
Easily accessible customer support staff.
Help navigating CMS regulations (a frequent cause of EHR workflow slowdowns).
At Phoenix Ortho, we provide all of these amenities and much more in ensuring you get an EHR that works for your practice. Learn more by requesting a demo today.
Schedule a 1:1
Get in touch with Phoenix Ortho to learn more about how you can save time, money, and mouse clicks with an orthopedic-specific EHR.
Schedule a 1:1