Your electronic health record (EHR) solution is a cornerstone of your orthopaedic practice, the one tool you rely on when interacting with every patient who enters your office doors. That's why you want to make sure it is as modern, flexible and compliant as possible.
Good news: Phoenix Ortho integrates an orthopaedic-specific EHR with a picture archiving and communication system (PACS) as well as a built-in practice management (PM) platform. The result is a comprehensive solution designed exclusively for orthopaedics, one that saves you time and money while ultimately helping you see more patients.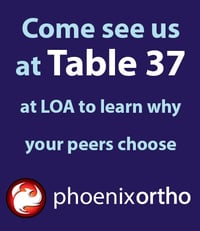 An EHR should work for you, not against you. There's a world of difference between a run-of-the-mill EHR that requires you to juggle multiple systems for key workflows (such as X-ray and MRI imaging) and one that integrates everything into one convenient interface, like Phoenix Ortho EHR/PACS/PM.
Interested in seeing the distinction up close, in detail? Stop by the Phoenix Ortho table (37) at this year's Louisiana Orthopaedic Association (LOA) Annual Meeting.
Visit the Phoenix Ortho booth, and you'll gain detailed insight into how orthopaedists all across the U.S. have already saved time and money with our specialized EHR.
With our all-in-one EHR/PACS/PM platform, you can overcome common problems presented by standard EHRs, such as being overwhelmed with irrelevant and/or poorly formatted data (i.e., "note bloat," a virtually universal issue) and countless mouse clicks just to navigate a basic workflow. Plus, you can make life much easier on yourself and your staff: Phoenix Ortho functions, such as charting by impression, save you from late nights trying to finish all your data entry.
Learn more about Phoenix Ortho
The LOA Annual Meeting is just two days each year, meaning there are still 363 others to explore additional avenues for EHR improvement. Whether you see us at LOA or not, be sure to schedule your no-obligation online demo to get a direct look at how our platform can set up your orthopaedics practice for success. You can also check our main blog page for regularly updated news and tips related to our industry-leading EHR/PACS/PM.
Schedule a 1:1
Get in touch with Phoenix Ortho to learn more about how you can save time, money, and mouse clicks with an orthopedic-specific EHR.
Schedule a 1:1