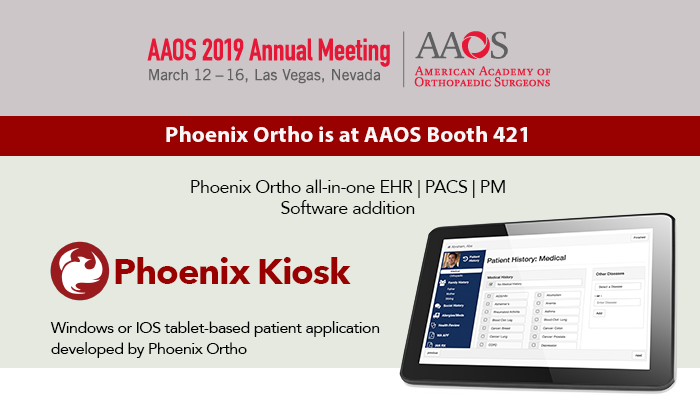 See our new and improved Phoenix Ortho Kiosk in action at the American Academy of Orthopaedic Surgeons' 2019 Annual Meeting (AAOS 2019) March 12-16. The event is a major gathering for orthopaedic surgeons that features ongoing training and information about techniques, technologies, and review sessions that help physicians improve their practices.
At booth #421, our team of experts will showcase the features and benefits of Phoenix Ortho's patient check in kiosk software via live demos. They also will be available to answer questions about our advanced patient data capture solution and will explain how it works hand-in-hand with our all-in-one orthopaedic-specific electronic health records (EHR | PACS | PM).
What Makes the Phoenix Ortho's Phoenix Kiosk So Great?
Phoenix Ortho's "Phoenix Kiosk" is a patient-facing check-in solution that simplifies the patient data capture process. This check in kiosk saves orthopaedic clinics effort, time, and money on patient data entry while also improving doctor patient communication and increasing patient satisfaction.
Developed by Phoenix Ortho, the patient check in kiosk software is designed to interface with Phoenix Ortho's all-in-one EHR | PACS | PM. This enables you to automatically transfer patient check-in information, health histories, and other data to the patient chart while eliminating redundant processes. A significant benefit of using the Phoenix Kiosk in conjunction with the EHR | PACS | PM is that you can avoid the incompatibility issues that frequently result from integrating two or more third-party solutions.
Check Out our Patient Check in Kiosk Software for Yourself
Want to see how our enhanced patient data capture and interaction management solution can improve your orthopaedic practice's processes and efficiency? At AAOS 2019, our team will be joined by renowned practice management consultant and instructor Cheyenne Brinson, MBA & CPA of KarenZupko & Associates. Cheyenne, who has helped more than 100 orthopaedic, neurosurgery, plastic surgery, dermatology, vascular, and otolaryngology practices, will present our orthopaedic-specific EHR solution and will discuss how patient check in solutions help orthopaedic surgeons improve their collections at the time of service.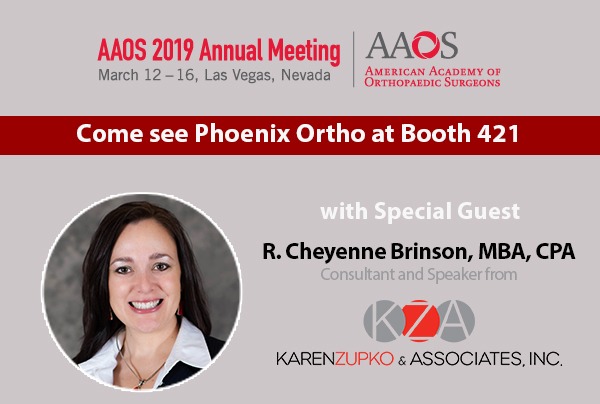 Join Us at AAOS 2019?
We look forward to meeting you at booth 421, which will be located to the left of the main entrance near the food service and seating section. Won't be able to make the annual meeting? That's okay. We can still make sure you don't miss out by scheduling a demo with you and your orthopaedic clinic team.
Won't make it to AAOS?
Schedule a 1:1
Get in touch with Phoenix Ortho to learn more about how you can save time, money, and mouse clicks with an orthopedic-specific EHR.
Schedule a 1:1