Leaders in both the healthcare industry and the government have endorsed the use of telehealth technology as a crucial tool for combating the spread of infectious diseases like the coronavirus (COVID-19).
By conducting virtual visits over the phone, orthopedic physicians can assess patients who may be infected with coronavirus (or may be immunocompromised) without risking exposure to themselves, their staff, and other patients. With new legislation allowing healthcare organizations to receive reimbursements for virtual visits, providers have started to make telemedicine a top priority.
Millions Allocated for an Emergency Telehealth Waiver
The Federal government has passed the Coronavirus Preparedness and Response Supplemental Appropriations Act, 2020. The $8.3 billion emergency coronavirus funding package provides for the development of new treatments, boosts funding to purchase medical supplies, and allocates grants to states and localities for preparedness within 30 days.
The bill waives certain Medicare restrictions for telehealth, including that a beneficiary can use telehealth services even if they aren't in a rural community. This provision also allows beneficiaries to receive care from physicians and other practitioners in their homes to avoid placing themselves at greater risk of contracting the virus.
Providers Making Telehealth a Top Priority to Combat Coronavirus
Vice President Mike Pence announced that private U.S. health insurers have agreed to extend coronavirus treatment coverage in all their plans, waive copayment fees for testing, and cover telemedicine for patients to get care without having to leave their homes.
Telehealth virtual visits allow clinicians to screen patients who may be infected, without the risk of exposing patients and providers to the virus in their facilities.
Other Benefits of Using Telemedicine Solutions for Orthopedics
There are several reasons for orthopedic practices to use telehealth solutions aside from preventing the spread of infectious diseases. For example, with a telemedicine solution, orthopedic clinics can:
Reach More Patients. Removing the obstacle of having to travel for basic orthopedic diagnoses makes it easier for patients to seek care. This allows practices to reach more patients than they would by relying solely on traditional, in-clinic care.
Increase Collections. More patients means more opportunities for orthopedic clinics to help people and earn money. Solutions like Phoenix InTeleMed can further improve the collection process by helping to set billing codes and even automatically forwarding them to the charge ticket.
Save Time. In-person visits can be a time-consuming process for orthopedic surgeons. With virtual visits via telemedicine solutions, doctors can review patient images and symptom details at their leisure, while patients don't have to sit in line at the clinic.
Phoenix InTeleMed Extends Your Reach with Secure Messaging and More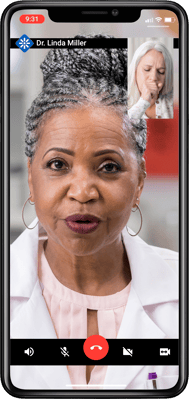 With the announcement of the new Phoenix InTeleMed telehealth solution, which is available with the latest Phoenix Ortho version release at no additional cost to customers, we want to highlight the optional capabilities you can add with our partner Backline powered by DrFirst.
Backline by DrFirst combines video conferencing with secure messaging, clinical file sharing, electronic form support, and other features - all in a comprehensive, HIPAA-compliant solution.
Backline is an easy-to-use, cost-effective platform with care collaboration features you won't find in other telemedicine offerings. And, there's no registration process or app for patients to download.
Conduct telehealth visits via web and mobile
Video or text communications between care teams and patients
Share files, images, and information
Send notifications for swift decision making
Distribute documents with e-sign capabilities to patients, their families, staff members, and other providers within the extended care team
The coronavirus presents an escalating situation that highlights the necessity of a collaborative healthcare ecosystem. We're dedicated to assisting you with keeping your staff, patients, and their families safe and healthy.



Existing Customers Can Upgrade at no Additional cost by Submitting a Support Ticket - Type: Upgrade.
Schedule a 1:1
Get in touch with Phoenix Ortho to learn more about how you can save time, money, and mouse clicks with an orthopedic-specific EHR.
Schedule a 1:1