One of the most significant developments for orthopaedics in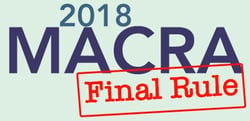 2017 was the initial publication of the 2018 final rule for the Quality Payment Program, originally authorized under the Medicare and CHIP Reauthorization Act of 2015 (MACRA).
Many practices spent 2017 focused on transitioning to the various quality programs first established by MACRA. However, the new rule introduces some significant changes they'll need to account for in the coming years. As orthopaedics prepare for these adjustments, they should ensure they have an adaptive, orthopaedic-specific electronic health record (EHR) system, like Phoenix Ortho's, in place.
Such a platform allows straightforward compliance with the updated guidance and receipt of applicable incentive payments, by helping you:
1. Identify and earn the incentives relevant to your practice
One of the central themes of the 2018 rule is greater regulatory flexibility for smaller practices (i.e., ones with 15 or fewer clinicians) that might otherwise struggle to participate in complex quality-related programs. Multiple new targeted incentives will be available to these practitioners in 2018. If your orthopaedic office qualifies, it can earn Merit-based Incentive Payments System (MIPS) points from CMS for reporting on performance categories and treating a high share of patients with complex conditions.
In order to receive these points, you'll need an EHR that can efficiently chart orthopaedic patients, not to mention ensure accurate diagnoses and billing codes during their visits. Such up-to-date certified EHR technology (CEHRT) is indeed the backbone of MIPS/MACRA compliance, since it supports the capture and transmission all of the required data for the relevant assessed measures. Plus, the more modern your EHR system, the better chances you have of gaining as many incentives as possible and avoiding administrative mistakes along the way.
In fact, under the 2018 rule, CMS will award additional points for reporting the Advancing Care Information (ACI) objectives via 2015 Edition CEHRT, even though 2014 Edition is still compliant. With Phoenix Ortho, you can maximize your incentive attainment thanks to specific features such as:
Streamlined coordination of care on the charts of complex patients, with multiple personnel able to access and update key information.
Real-time charge capture so that you steer clear of the hassle of recovering amounts owed and general account information after the fact.
Integrated picture archiving and communication system (PACS) functionality as well as built-in practice management (software) for simplified reporting on patients for MIPS.
2. Know the new requirements for performance and completeness
While the "pick your pace" option for easing into MIPS will still be available in 2018, it isn't exactly the same as its 2017 equivalent and is in fact more demanding. More specifically, the MIPS performance threshold has been raised, with a floor of 15 points during the transition year, up from 3 points previously. That number represents the minimum amount needed to avoid a penalty from CMS.
At the same time, the data completeness threshold will also will be higher. Clinicians must meet 60 percent completeness for their claim, registry and EHR submissions in 2018. The reporting period for quality is being extended as well; originally 90 days, it'll run 12 months in 2018.
The upshot of these modifications is increased incentive and pressure to meet the quality and cost control standards set by CMS. Accordingly, it might be time to reassess your EHR platform and see if it's up-to-date and capable of meeting all the key requirements established by MIPS/MACRA.
With Phoenix Ortho EHR | PACS | PM, you can rest assured you have such a solution, one that constantly adapts to your workflows and excels at orthopaedic-specific tasks such as X-ray and MRI management. Plus, patient-facing data entry helps you meet crucial ACI measures pertaining to patients' ability to view, download and send their health information online via a CEHRT.
3. Prepare for further changes down the road, especially related to cost
MACRA/MIPS are always being modified in response to feedback and new legislation. These shifts are particularly evident in changes to the weighting of cost measures in the MIPS score.
Costs were not weighted in 2017, but will be assessed in 2018. They will constitute 10 percent of the score in 2018 and 30 percent of it in 2019. Although the immediate effects are slight, 2019 will be here before we know it and it's never too early to make sure your EHR is ready.
It's easier to sustain a cost-effective and efficient orthopaedic practice with an orthopaedic-specific EHR. Phoenix Ortho reduces bottlenecks, eliminates irrelevant information and empowers you to see more patients. It's your ticket to MACRA/MIPS compliance and financial stability.
Ready to get started?
Schedule a 1:1
Get in touch with Phoenix Ortho to learn more about how you can save time, money, and mouse clicks with an orthopedic-specific EHR.
Schedule a 1:1